The Village of Bethel...
Located on the banks of the majestic Androscoggin River, with panoramic views of the mountains of New Hampshire and Maine, Bethel has been a popular vacation destination for more than 200 years.
The area is home to the fabulous Sunday River Ski Resort which has long been popular with skiers not just from the Northeast but from around the globe. Bethel is a Historic village with great shopping and dining opportunities and is active and lively throughout every season of the year.
| More information about Bethel |

Sunday River...
Sunday River, long known as one of the preeminent ski resorts in the East, is a premier skiing destination that has steadily gained in popularity. Yet, with a trail network spanning 8 peaks, Sunday

River maintains an open, spread-out feeling and never feels overcrowded. As far as skiing terrain, there is something or everyone with a variety of trails for each level of ability.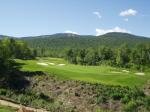 But Sunday River is not just a winter destination, golfers will be in awe of the new Robert Trent Jones Jr. golf course at the Sunday River Golf Club. Panoramic mountain views from each of it's 18 holes and the way the course is naturally integrated into the landscape are just some of the reasons this course has won multiple awards - including one of the top 10 best new golf courses in the world by Travel and Leisure Magazine.
| More information about Sunday River Ski Resort and Sunday River Golf Club |


Great Brook Preserve is located near:
• Sunday River Ski Resort
- 9 miles

• Sunday River Golf Course
- 9 miles

• Lake Umbagog
- 30 minutes

• Grafton Notch State Park
- 20 minutes

• Richardson Lake
- 40 minutes

• Rangley Lake area
- 60 minutes

• Errol, NH
- 40 minutes

• Portland, ME
- 2 hours

• Boston, MA
- 3 hours
Great Brook Preserve...Hiker's paradise
______________________________________________________________
A Wild Idea...

Another exciting feature of Great Brook Preserve is a new 180-mile hut and trails system through the mountains and lakes of western Maine that is slated to run adjacent to Great Brook Preserve. Funding for this endeavor was provided in part by native Maine corporations such as L.L. Bean and Tom's of Maine. The Western Mountains Foundation's trail/hut system will stretch from Newry to Moosehead Lake and will feature twelve remote log huts that are designed to reflect the tradition of Western Maine's sporting camps. The WMF trail system promises to be a great draw to the area and an excellent way to experience the immense natural beauty of the Western Maine Mountains. MAP
| The Western Mountains Foundation |
______________________________________________________
The Grafton Loop Trail...
Great Brook Preserve is also next to another exciting opportunity, The Grafton Loop Trail. Offering about 40 miles of hiking along a trail that connects a series of scenic peaks and other natural features in Grafton Notch, the Grafton Loop Trail project was recently featured in Men's Journal magazine for it's inaugural opening this year
For the AMC, this is the first major trail constructed by the club the building of the Centennial Trail in the Mahoosucs in 1976. The eastern half of the Grafton Loop was completed and opened to the public in June 2003. The remainder of the trail (another 21 miles) is slated for completion in spring 2005.
| Men's Journal Article |
______________________________________________________
For more information, please call
1-877-640-5263
to speak with one of our knowledgeable land specialists.

Or email:
Visit Northern Acres for more premium properties in New Hampshire & Maine